<![CDATA[
One of the many advantages of our modern digitally connected world is the opportunity to work from the comfort of your home. Nowadays, there are many workers for whom the daily commute into work is a thing of the past. Lucky them! All these homeworkers, freelancers and self-employed people need do is to put on their slippers, grab a coffee and head into their home office to get their working day started. But what's the best way to create a home office that works?
Enhance your productivity
Whether you have a dedicated space or a smaller recess in a larger room how you decorate your home office is an important consideration to help you to be productive and get some actual work done! Let's start with the big picture. If you're going to be poring over documents, squinting at a PC or reading notes then good light is essential. Try to allow as much natural light into your home office as possible. This can be from a window or from skylights. The key to this is ensuring that your home office décor has light colours that help to maximise sunlight and creates an airy, productive feel to the room. For darker months, invest in good quality overhead lighting and a perhaps a stylish desk lamp. There are many fantastic designs available so no need to compromise on looks. Toiling away under a 60 watt bulb will soon become depressing and, as your Mum used to say, 'will ruin your eyes!' so make sure the light's right!
Furnish thoughtfully
Obviously. you're going to need a desk, a chair, some storage and some homely comforts. You're going to spend quite some time in your home office so it's important to make it a place in which you'll be happy to spend several hours on a daily basis. If you can afford purpose built office fittings that's always the best option. Modern office furniture is ergonomically designed to ensure that items like keyboards, screens, printers and drawers for filing and stationery are at the right height or distance from you. This will help you to be both efficient and promote a good working posture. Your back will thank you for this! If you want to make an impact in your home office design maybe get one of our
Chesterfield Office Chairs
. These stylish chairs are the perfect place from which to stare thoughtfully into the distance, steepling your fingers as you develop your latest innovative idea (or decide it's time for a tea break).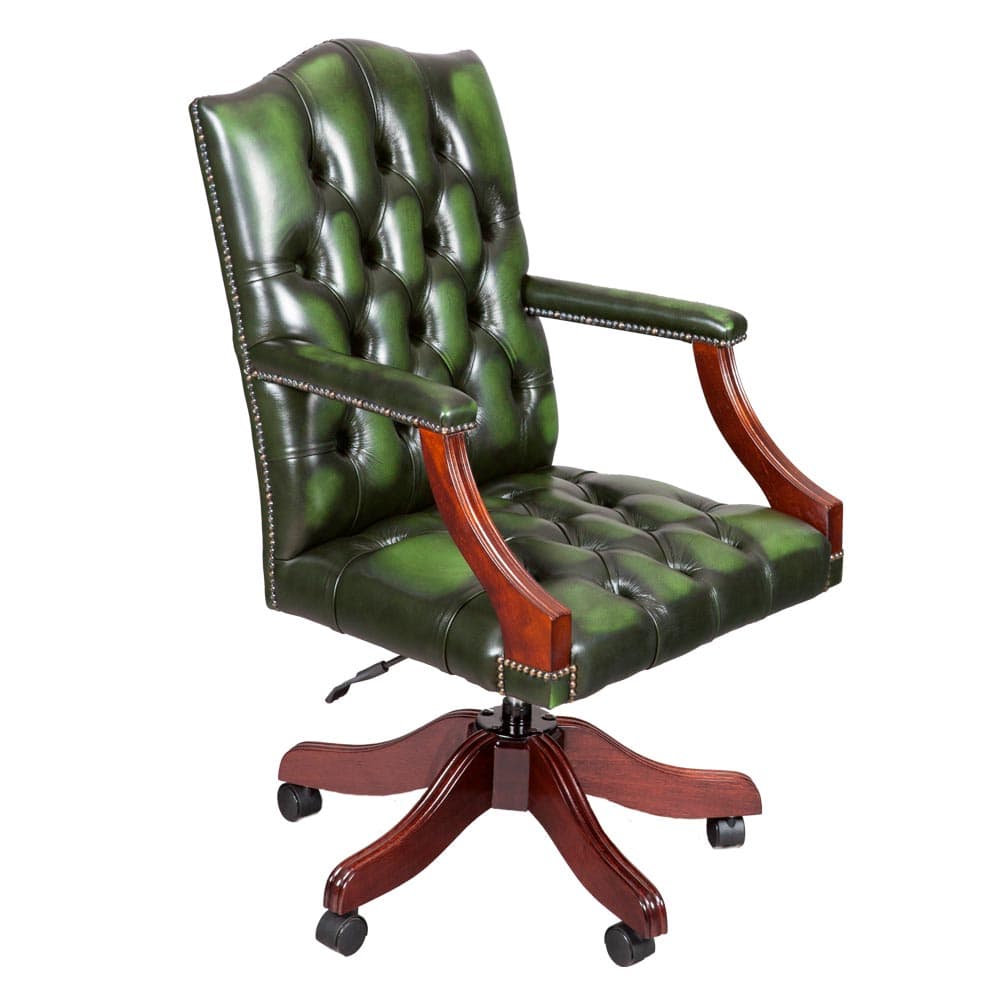 Personalise professionally
With the basics in place, it's time to make the home office your own. This is where some well-chosen pictures or posters will help. Nothing too garish or distracting, just images you enjoy which will give you some inspiration as you take some time to think. There's nothing wrong with a few family photos and few tasteful office ornaments too. Just to keep you grounded. Finally, if you have room, a bookshelf with some useful tomes may be in order. Reference materials such as a dictionary, thesaurus atlas and any books relevant to your profession or studies would be a useable addition too. Perhaps, also add a few lighter texts to help keep it fun. Whilst most things may be available via Google these days using the tried and tested old ways of finding information can sometimes make a welcome change and look good to boot.
Time to make a difference
Whether you're a jobbing freelancer or a captain of industry, having a good home office design can make the difference between your work being a grind or ground-breaking. We hope we've helped to inspire you to enjoy your home working and if we can bring a little Chesterfield style into the mix all you need do is give us a call.]]>