<![CDATA[Now there's a puzzle for you. Perhaps you answered when it's a settee, a couch, a chaise longue. All wrong! The correct answer is when it's a bed. When it's a Chesterfield style sofa bed to be more precise. How sofa beds have changed. Gone are the days when a sofa bed was a sad, lumpy relic your granny kept hidden in a spare room for when visitors arrived. Now, with a leather Chesterfield sofa bed you can have a stylish piece of furniture you will be as happy to use every day, as you will be to proudly unfurl when hordes of folk descend on your home for an overnighter. Our range of Leather Chesterfield sofa beds give all the advantages that come with a comfortable, easy to use sofa bed that offers both cosy seating and efficient sleeping accommodation for guests when you find you don't quite have enough bedrooms. And all in the classic style of our signature Chesterfield sofas.
Just look at our range of our Chesterfield Sofa Beds…
We're really pleased with our range of Chesterfield style sofa beds and we're sure there will be a style that suits you and the way you live.
The Bolton Sofa Bed
As 'Chesterfieldery' as they come. Classic in every way with its highly polished leather and multitude of recessed buttons. If you want a 'full-fat'
Chesterfield style sofa bed
this is the one to get.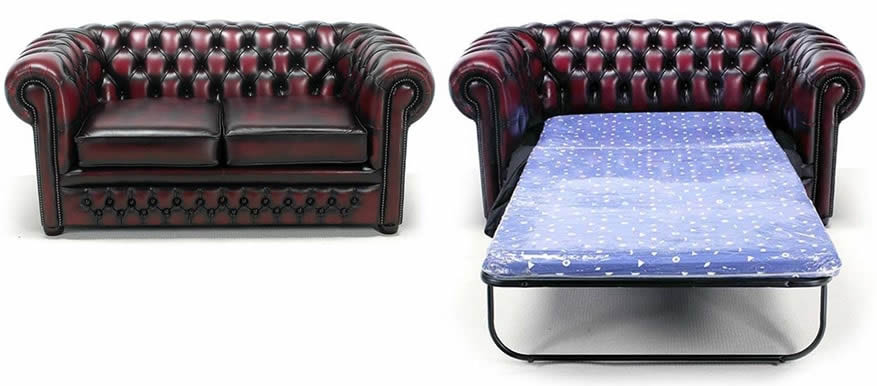 The Oxford Sofa Bed
The
Oxford Chesterfield sofa bed
has less buttons than the Bolton but still presents in the classic style with acres of lovely leather and look at me presence. It's certainly is no less a Chesterfield and did we mention it's also a bed?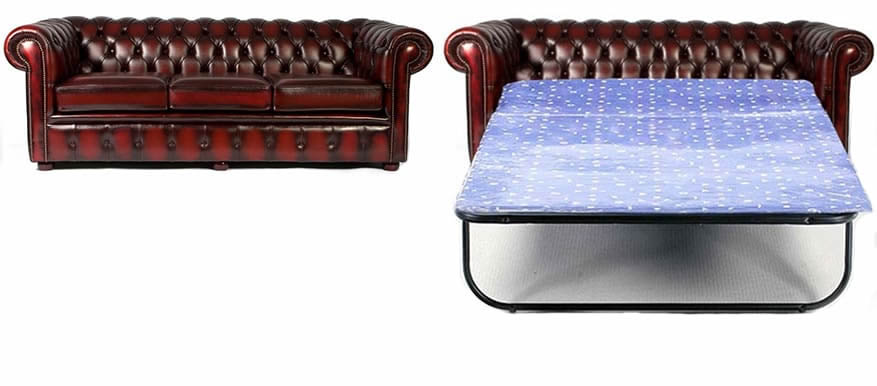 The Monks Sofa Bed
This piece simply defines the word 'imposing'. Want to make a statement? Need a night's kip? The
Monks Chesterfield sofa bed
offers both with its regal higher back and deep black leather. It's possibly the most stylish night's sleep you may ever have.
The Era Sofa Bed
This style brings a more
modern edge to our range
. With softer back cushions and more contemporary styling it brings the Chesterfield sofa bed, and perhaps sleep itself, firmly into the modern age. It will work brilliantly in a more modern home setting.
The Windsor Sofa Bed
With its
earthy brown leather
and gentler sloping arm profile this sofa offer a more laid-back, dare we say, relaxed approach to Chesterfield styling. Handy that given it's also a bed!

The Gladstone Sofa Bed
A
leather Chesterfield sofa bed
that is as grand as the name suggests. Despite its more curved looks this is a Chesterfield that demands attention and is as eye catching as it is comfortable (especially when it's being used as a bed).

The Big Brother Sofa Bed
A Chesterfield on steroids. As thoroughly modern as it is classic. A
traditional Chesterfield sofa with cow hide cushions
and detailing. Perhaps someone was actually sleeping on one of our Chesterfield style sofa beds when they dreamt up this amazing creation?

Sweet Dreams!
Whichever sofa bed you choose we can create them in two seater, three seater and four seater arrangements. We make all our
handcrafted sofa beds
to order in the traditional way at our Lancashire workshop, using only the finest quality leathers, fabrics and woods. This is what makes our Chesterfield sofa beds and bed settees an absolute dream . A beautiful and practical piece of furniture that will stand the test of time.]]>