<![CDATA[
Make Your Own Merry Christmas
Not so many years ago, the notion of making your own Christmas decorations centred on a couple of frankly dodgy ideas. Firstly, there was the fire hazard known as the Blue Peter Advent Crown: a tacky confection of bent coat hangers and cheap tinsel in which you precariously balanced some candles, lit with much trepidation and kept a fire extinguisher on hand at all times. Alternatively, there was a tragic homemade paper chain made from bits of old magazines and newspapers that was as joyful as a vegetarian sausage roll. Nowadays, homemade Christmas decorations is called upcycling but the sad fact was that all of these indifferent trinkets would soon hit the bin along with the remains of the festive roast, never to besmirch Christmas again. Sounds bad, is it worth the effort? Luckily, we've got a lot better at this make your own Christmas decorations malarkey and there are some genuinely impressive homemade Christmas decoration ideas for you to craft at home that you'll be proud to display and use for more than just one year. Here are some of the best…
1. Chalkboard Bulbs
If you're loathe to throw away worn-out but perfectly good decorative baubles then this upcycling idea will make you happy. Use some blackboard paint to make decorations you can personalise with messages from Santa or show an eager child where their gifts are hiding.
Read the tutorial
.
2. Tiny felt houses
Christmas isn't always about grand gestures. These pretty and petit decorations show it's often the little details that count the most.
Read the tutorial.
3. Wooden village made from miniature birdhouses
Whilst we're building houses, why not make some very tiny wooden dwellings for humans and birds to create a very effective yuletide village display. It's time for the power tools folks!
Read the tutorial.
4. Old CD ornament
Maybe you've heard the Slade classic Merry Christmas Everybody one too many times – who hasn't? Don't throw the CD away instead make one of these and this annual classic will still be contributing to Christmas (sort of).
Watch the tutorial
.
5. Painted pinecones
This one is easy. Collect some pinecones and dab tastefully with some Tippex. Yes, it's that simple to make a lovely homemade Christmas decoration.
Read the tutorial
.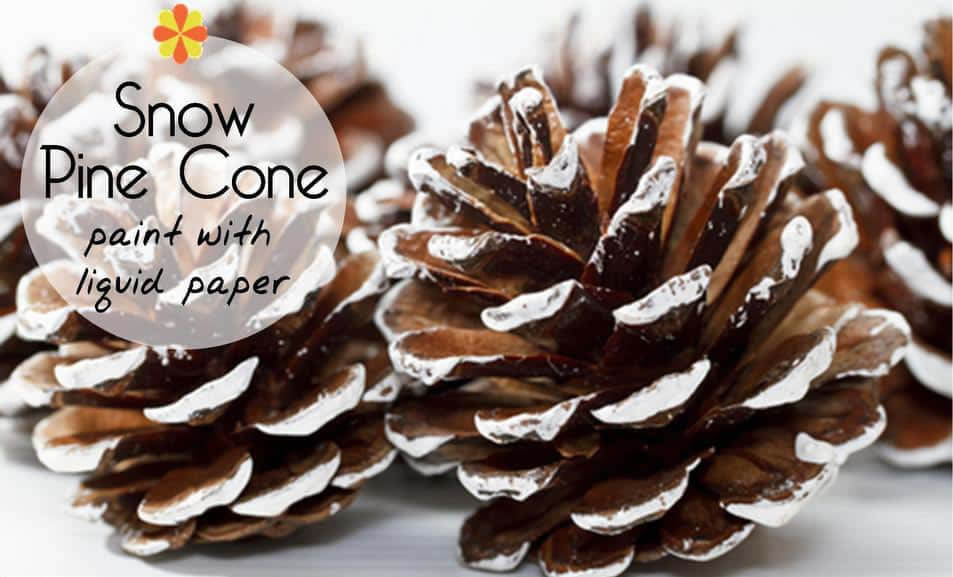 6. Rustic Christmas candle
Lighting a few candles really does enhance the yuletide cheer. So, if that's your thing, this homemade decoration, made with a few humble items, transforms a modest candle into something special at this time of year.
Read the tutorial
.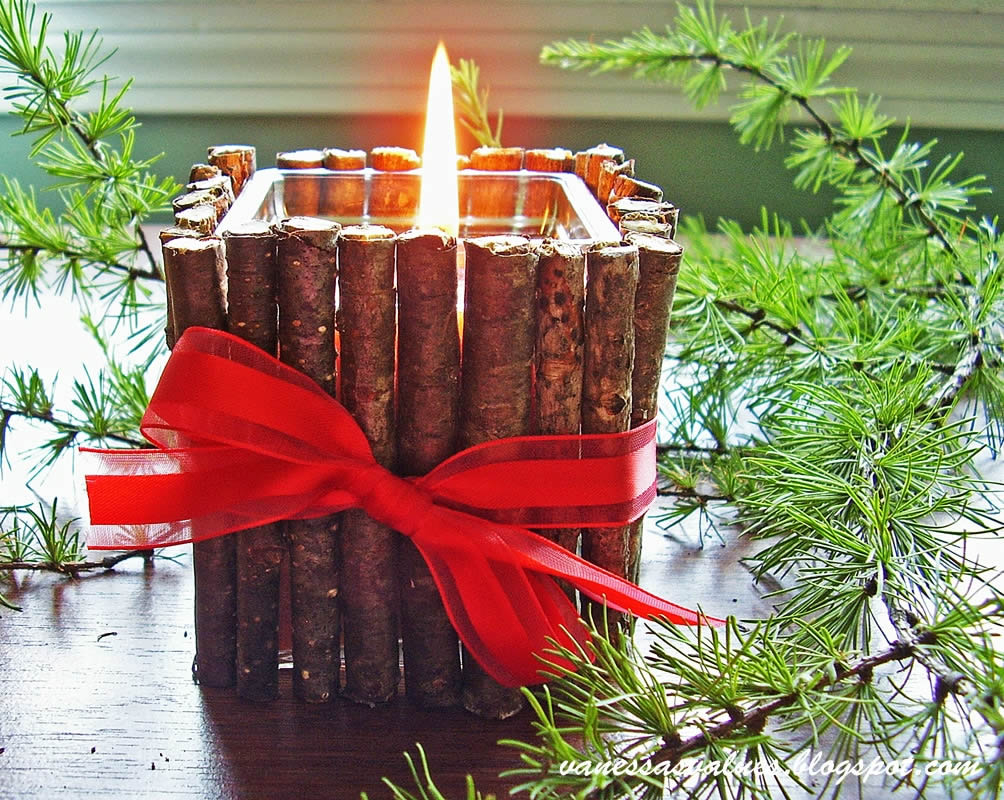 7. Vintage paperchains
This is a really simple and effective addition to your homemade Christmas décor scheme. Simply find some old sheet music and a stapler and make a pretty paper chain that really does add to the celebratory atmosphere.
Read the tutorial
.
8. Hot air balloon ornament
There's a lot of hot air expended over the Christmas lunch usually from a chatty Aunt who needs to comment on everything. Happily, this dainty decoration is a little bit of hot air that you will want as it transforms the humble seasonal bauble into a work of art.
Read the tutorial
.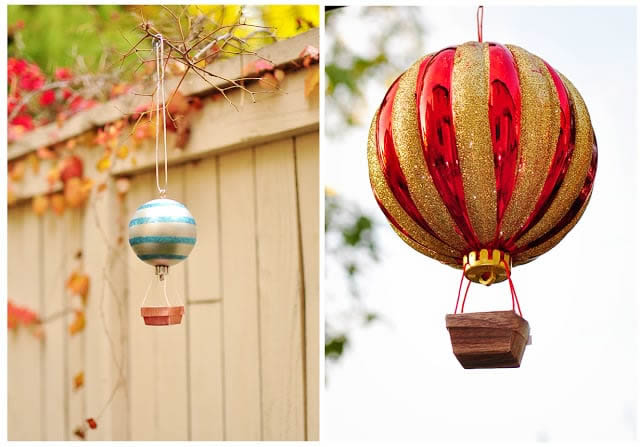 9. Country ornament
This homemade decoration adds an earthy, rustic edge to your displays. It's a great way to jazz up some old burlap sacking and would be great fun to make with the kids!
Read the tutorial
.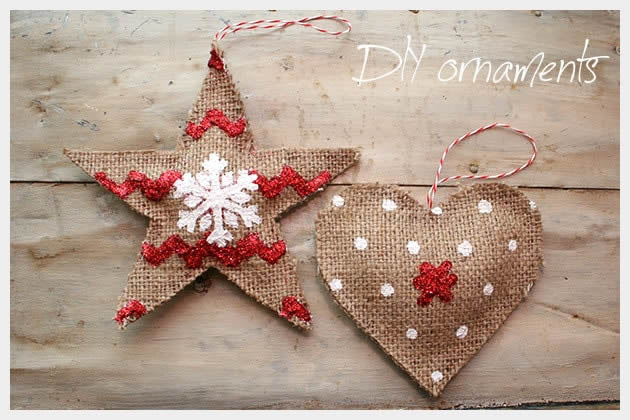 10. 3D paper snowflake
This is a creative way to use up wrapping paper that doesn't make it under the tree. With a bit of easy-to-do origami you'll soon have one of these snowflake decorations that all who see them will swear you bought. They are that good.
Read the tutorial
.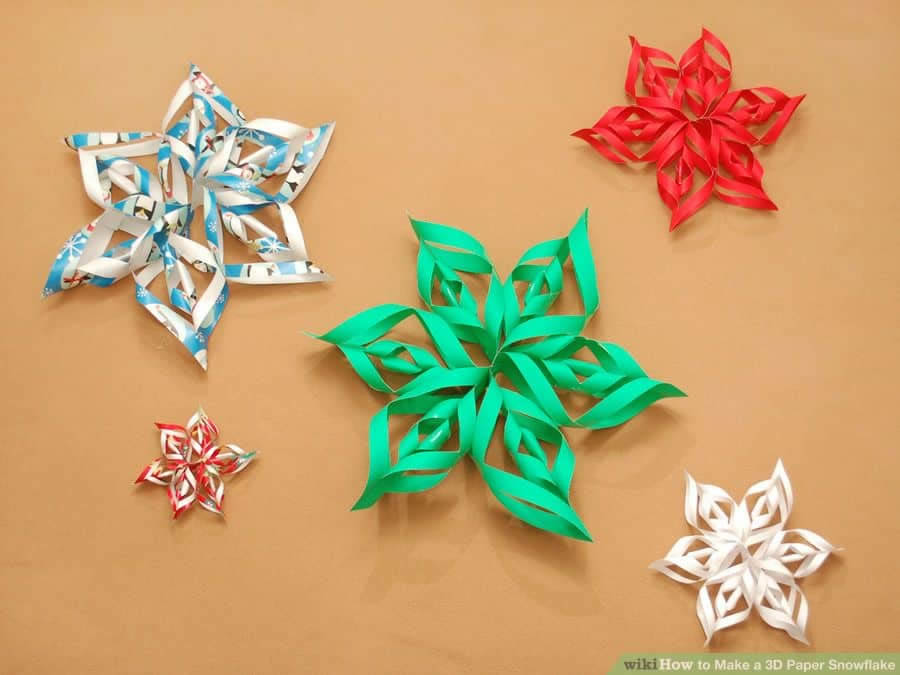 11. Felt Christmas tree decoration
Who'd have thought you can take a few simple materials and make something this striking. Well you can! This little treat will adorn your tree for years to come.
Read the tutorial
.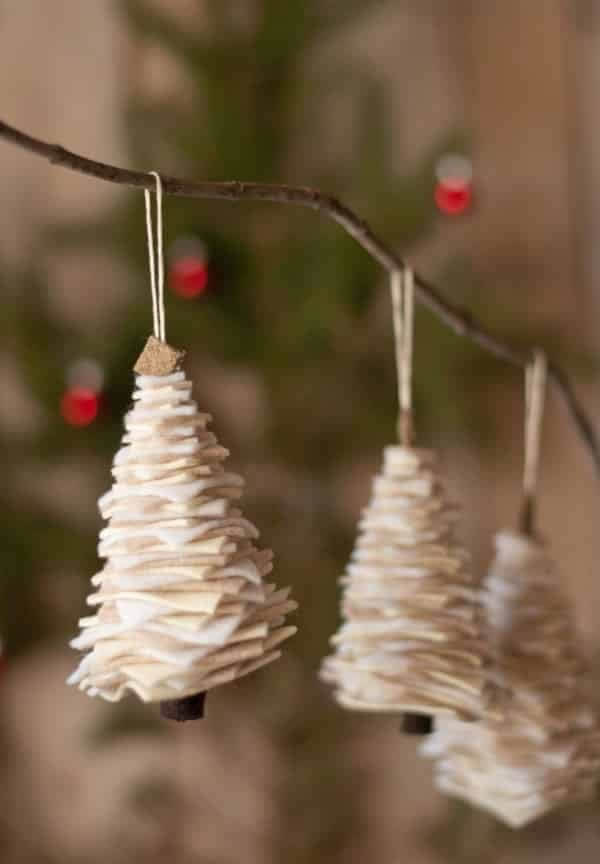 12. Wood burned snowflake
A marvellous combination of fire and ice but definitely one for adult crafters! A delightfully etched homemade snowflake that will test your skills and make you proud you made the effort.
Read the tutorial
.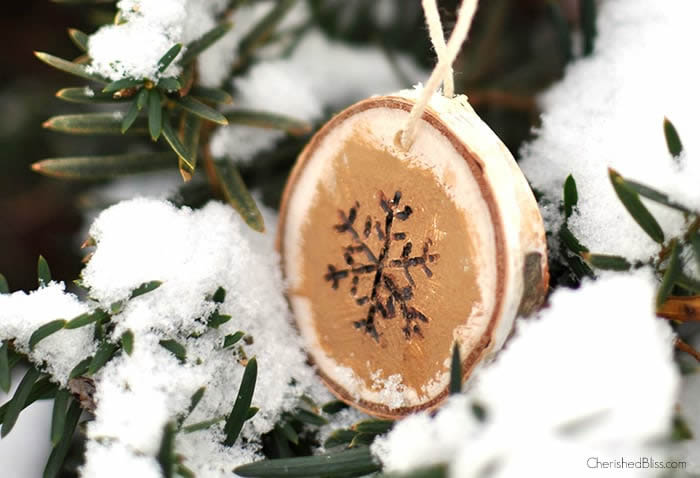 13. Scrabble tile ornament
Maybe you've had enough of getting a selection of Scrabble letters that make no word you know of. Then it's time to repurpose those tiles into some festive fun. This example says 'let it snow' but 'Ho Ho Ho' would be just as good or maybe even 'Bah Humbug' if you're that way inclined. Either way, you're bound to score highly with his homemade Christmas decoration.
Read the tutorial
.
14. Mini woodland wreath
Instead of chucking that small log on the wood burner, consider making this countrified ornament. You'll need some basic woodworking skills but put in the effort and you'll soon create this attractive and durable whimsy.
Read the tutorial
.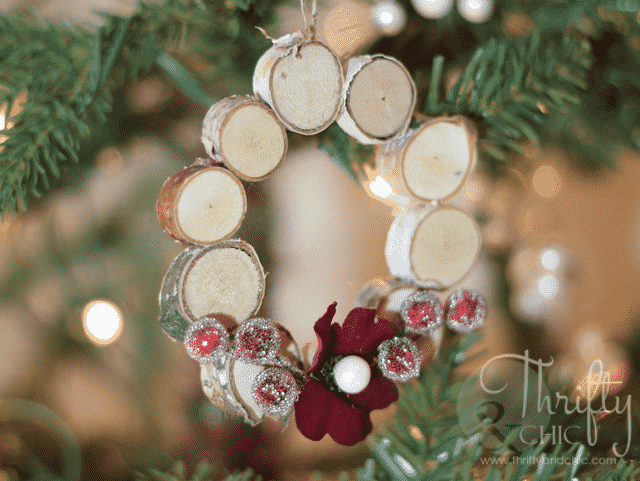 15. 3D deer head ornament
There are imaginative kits you can buy to decorate your home and this from Ashley is one of the best. It's like having a mini stag's head but without the taxidermy. Rudolph and chums will thank you for picking this homemade decoration option.
Read the tutorial
.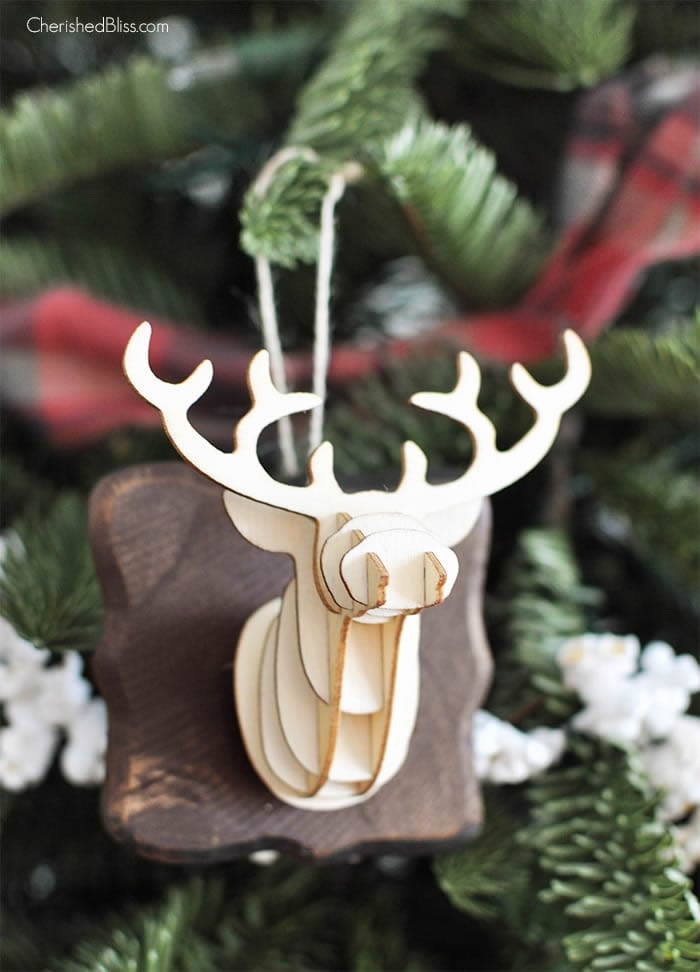 16. Papier mache ornament
If you like getting gluey and sticky then this decoration is perfect for you. We all remember papier-mache from school but with this idea you'll be making something you actually will be pleased to display this Christmas!
Read the tutorial
.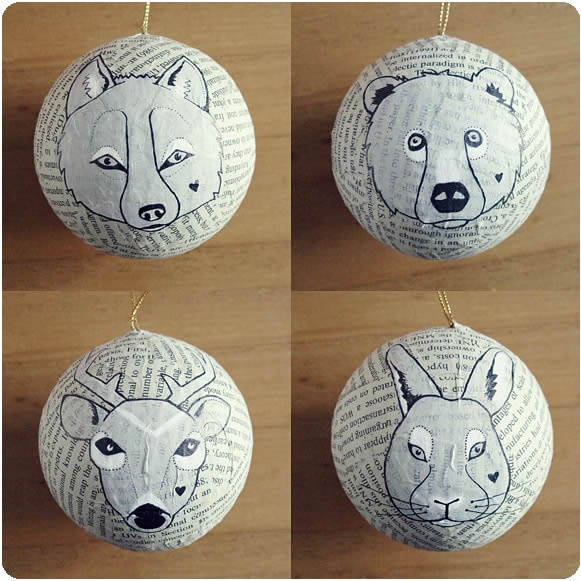 17. Glitter twine ornament
It was only a matter of time before the balloons and glitter turned up. With this knotty festive trimming you get to play with all the above and more. And when you've stopped giggling with glee you'll have a fantastic ornament. Does it get any better than that?
Read the tutorial
.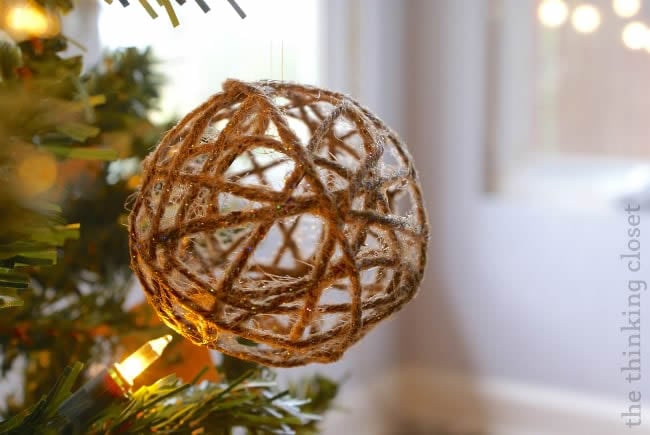 18. Vintage map ornament
For the geographically minded, this bit of map related origami will not only make an unusual homemade decoration but help you to brush up on your state capitals. Who'd have thought homemade Christmas decorations could be so educational?
Read the tutorial
.
19. Homemade baubles
A Christmas tree without baubles is like a turkey without stuffing – not quite right. If you're tired of the same old glass baubles, you bought from Woollies years ago then these homemade versions will be just the thing and will look just as fabulous, if not better.
Read the tutorial
.
20. Twinkle light canvas
This is a simple and effective way of adding a touch of festive cheer to your home. Choose our favourite Christmas quote, apply to a blank canvas, add some fairy lights and away you go.
Read the tutorial
.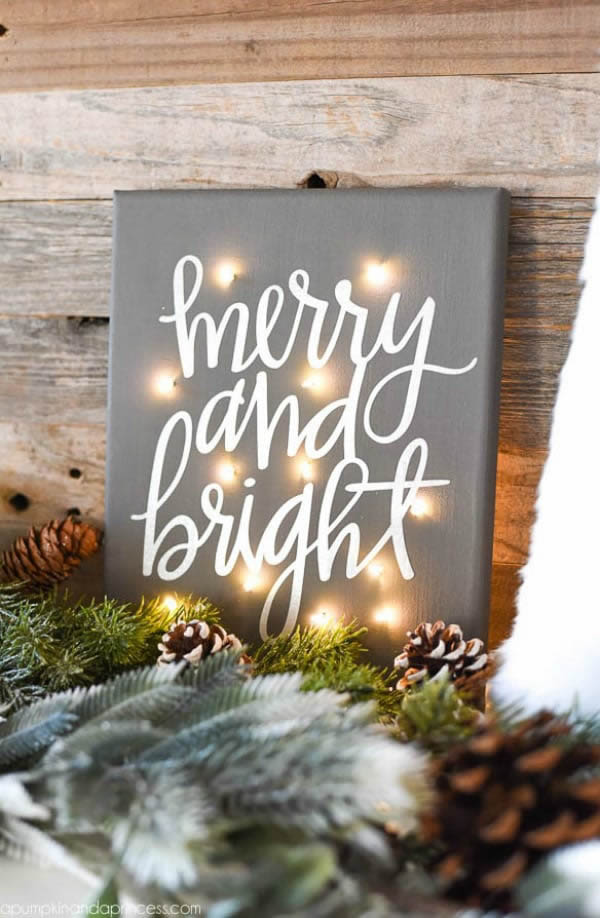 We hope we have inspired you to get crafty and have a go at making your own homemade Christmas decorations. With so many great ideas there is bound to be one or two where, with a little bit of time and energy, you can add a personal touch to your festive home design and have some fantastic fun too!]]>