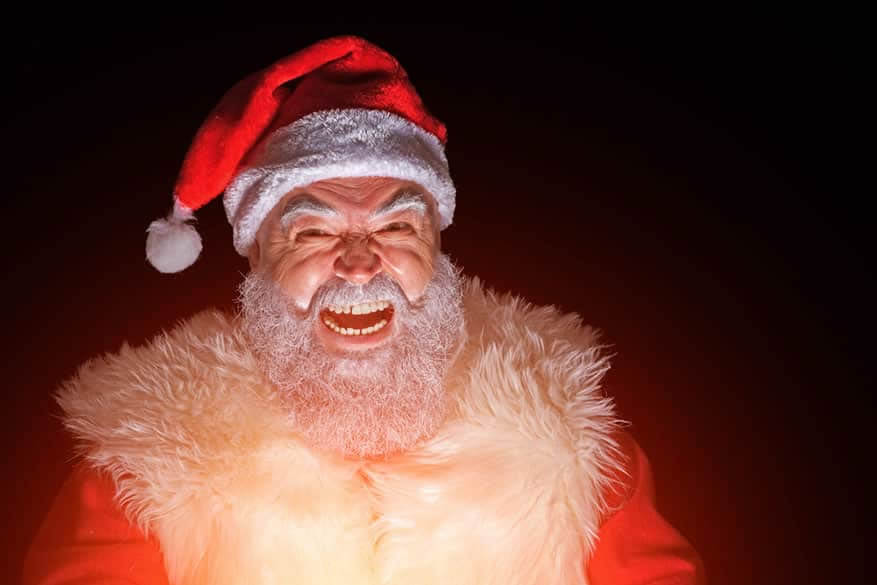 It is often said Christmas is a time of peace and goodwill to all men, women and children. A time when families can celebrate together and be thankful for their many blessings. A joyous time when we bestow our nearest and dearest with gifts to thank them for the positive benefits they bring in our lives. It's a brilliant time of year. Or is it?
Lurking beneath the surface of the festive period is a dark side. As the temperature drops the tensions start to ramp up. Statistics show it's a time when there are more family arguments than at any other time of year. It's a period in which couples part easier than a Terry's chocolate orange and family resentments bubble copiously to the surface to be aired at full force even if it is whilst wearing a paper hat. Oh dear.
So to help you out we've collated the most common reasons for Christmas family arguments perhaps to help you look out for and avoid these flare ups before they ruin the atmosphere worse than an overcooked Turkey. So, here we go: ding, ding, seconds out…
Round One – The get up…
By time the big day arrives, most people are exhausted. After all the running around and stress of getting ready is it too much to ask for a bit of a lie in? Apparently it is. Excited kids will be jumping up and down on their parent's bed from the early hours eager to see what Santa has bought.
Welcome to the first Christmas family argument. The one where frazzled parents scream that Santa has not yet arrived and if said urchins don't go back to bed it's unlikely he will at all.
Round Two – Not what I was expecting…
Oh the wailing, the screams, the anguish. And that's just the adults. If Santa's bounty isn't quite up to scratch then congratulations, the next Christmas family argument has arrived.
Grandparents may try to extinguish the flames by saying something like: 'when we were young all we got was an apple and an orange.' To be fair, if we got those in our Christmas stocking we'd kick off too!
Round Three – Is it done yet?
Christmas is about feasting, about overindulging on probably the biggest meal most will eat all year. But for the poor sucker landed with cooking this extravaganza, the stress is palpable.
With so much expectation, even the smallest of mishaps can lead to a hissed argument from the kitchen clearly audible to all sat at the Christmas table: 'if it's so easy Brian why don't you make the gravy rather than standing there like Gordon Ramsey?' Strange that when Brian comes back to the room he acts as if there's nothing wrong. Oh the drama!
Round Four – Sofa switcheroo
After the meal, it's time to settle down and enjoy a Christmas movie. What could be more festive? However, even before the last morsel of pudding is polished off the guests will have already eyed their preferred place on the Chesterfield sofa.
Chances are that most will also be coveting the same spot and so along comes next Christmas family argument. After much squabbling, all will be seated but once the person with the prime place visits the loo it will start all over again.
Round Five – Not so Quality Street
When the Mackintosh family introduced their Quality Street sweet selection in 1936 they can't have known the torment they would unleash every 25th of December. This particular Christmas family argument always starts with a simple statement: 'Who's eaten all the purple ones?'
Round Six – Charades
As sure as night follows day at some point, someone will suggest playing Charades. What are they thinking? If there was ever an incendiary game that divides families this is it.
Soon enough, blood pressure will be on the rise as the player waves his arms around ever more wildly in response to the stupid suggestions of his team infuriating him to the point of explosion. Queue the Christmas family argument probably not without (harsh) words…
The knockout round – Brexit
Most know the turkey is a famously flightless bird but if the subject of Brexit enters the Christmas conversation this could easily be disproved when your bird is launched skywards by an angry exit or remainer (closely followed by the Christmas table).
Brexit has divided the nation, don't let it do the same to your festivities. As Christmas family arguments go Brexit is the new kid on the block but this year it could be the biggest of them all. Perhaps ask everyone to leave his or her politics on the doorstep. Remember it is Christmas after all!
A Merry Chesterfield Christmas!
It goes without saying the team at the Chesterfield Sofa Company hope that none of the above mar your celebrations and if our countdown has helped you to plan a peaceful, argument free Christmas then our work is done.
So all that's left is to wish you all the best for Christmas and the New Year and hopefully you'll be in touch in 2017 so we can make your Chesterfield dreams come true.