<![CDATA[Chesterfield sofas now-a-days can be made in a wide variety of shapes, colours and sizes. Colours are associated with moods feelings and emotions. Individuals are all drawn to different colours; we enjoy some seasons more than others and favour certain months of the year. We have favourites because of the way they make us feel. So when you're thinking of investing in a new Chesterfield Sofa the colour and style are really important to make sure your investment is the correct one for you and your home.
The calendar of the Chesterfield sofa.
January = White (snow)
White represents perfection, purity, innocence, wholeness, completion, protection and encouragement. White contains an equal equilibrium of all the colours of the spectrum, therefore, representing the positive and negative. White is a colour we associate with a sense of peace and calm, comfort and hope, helping achieve inner peace. The Durham range would fit this month. [gallery ids="854"]
February = Red (Valentine's Day)
Red is a warm and positive colour; It emanates strength, power, energy, leadership qualities, promoting ambition and determination. It excites emotions and inspires us to take action! It represents love and sexuality too. The colour red is deemed to stimulate the appetite, which is why you can often see it being used in restaurants for this purpose. Designing a Chesterfield sofa In Birch Scarlett Leather would suite this month. [gallery ids="856"]
March = Green (St Patricks Day)
Green represents Balance and harmony it is the great balancer creating equilibrium between the head and the heart. It represents growth, renewal and rebirth. Its emotionally positive, calming and relaxing, a good colour for thinking and gaining mental clarity. You may associate a green Chesterfield with Stately homes, libraries or the business world. [gallery ids="857"]
April = Lilac/ purple (Easter) is the colour of royalty (Jesus, King of Kings).
Purple is the colour of imagination, spirituality, Inspiration, individuality and allows us to get in touch with our deeper thoughts. It is associated with Royalty and nobility, but we also associate purple with Artists, musicians, writers, poets it depicts magic and mystery.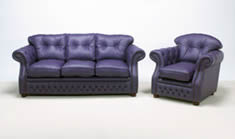 May = Pink (Flower's blooming)
The colour pink signifies nurturing, compassion, hope, understanding and unconditional love. It has a calming effect on our emotions and energies. Studies have established that exposure to large amounts of pink can create physical weakness in people and has a calming effect on the nerves. In prisons Inmates that are violent and aggressive have been calmed by exposure them to a pink room for a certain amount of time. Having a Chesterfield made in The 'Artemida' range of quality leathers could provide you with a calming environment. [gallery ids="858"]
June = Yellow (warm sunshine)
Yellow is a happy, fun colour and represents the mind, intellect, communication and new ideas. It is the colour which reverberates or stimulates the left or logic side of the brain creating mental agility and perception. Yellow can help with decision making and helps us focus and recall information. Yellow is more of a young colour as it can be to stimulating for elderly people. Designing a bespoke Chesterfield in Pallas 1162 could stimulate your intellectual responses! [gallery ids="859"] Next weeks blog will explore "The calendar of Chesterfield sofas Part 2". Let us create the most suitable sofa for you! Heys Industrial Estate, Rockliffe Road, Bacup, Lancashire, ol13 9qg, England, United Kingdom (UK). Freephone (UK): 0800 035 9889 Telephone: +44 (0) 161 341 0398 Fax: +44 (0) 1706 558 909]]>