<![CDATA[You don't need us to tell you that when you bought your beautiful chesterfield sofa you made a great choice. Not only do you own a piece of timeless furniture design but also a faithful friend that will give years of exceptional service. A friend that is always welcoming and will not judge you. All it wants to do is provide comfort whenever you need it. We could all do with more friends like that. You could always buy another Chesterfield sofa of course, we would not blame you for considering it, but perhaps that may be a little over the top. Luckily, we have a range of great Chesterfield style pieces that will complement your sofa and will be just as dependable.
Chesterfield Wingback Chairs
[caption id="attachment_5923" align="alignright" width="373"]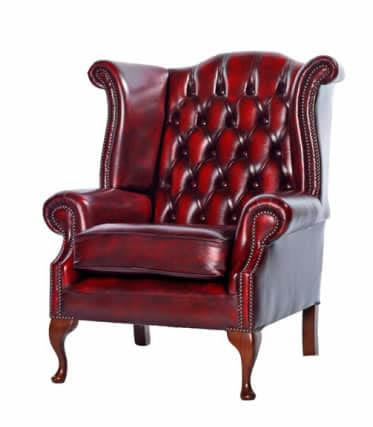 Pictured: Bolton Chesterfield Wingback Chair[/caption] Talk about a total classic.
Chesterfield wingback chairs
are yet another furniture icon. As at home in a crusty old manor as they are in a high tech Bond villain's lair. Placed alongside a perfectly matched Chesterfield sofa it'll transform any home into a place of elegance and sophistication. Chesterfield wingback chairs are the perfect seat from which to toast your toes in front of the fire as you swirl a balloon of cognac and contemplate the world. We have a superb range of styles that include leather and fabric covers or a combination of both. Our Chesterfield wingback chairs are all in the classic style but with elegant variants that include scrolled arms, different seat heights and even, with the Derwent wingback chair, a touch of the Avant Gard with patterned leather and a unique curvy profile. Whatever your taste we are sure to have a wingback chair that will suit your home. Moreover, just like your sofa, Chesterfield wingback chairs will only get better with age as they come to understand your ways and are always waiting to sit you down, help you contemplate the meaning of life or just watch TV.
Chesterfield Footstools
[caption id="attachment_5925" align="alignright" width="373"]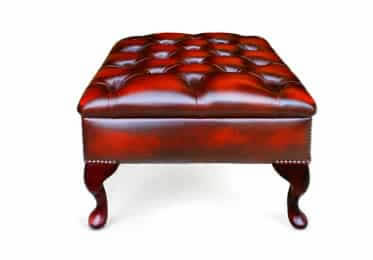 Pictured: Ottoman Chesterfield Leather Footstool[/caption] So you've got the sofa and some Chesterfield wingback chairs what else might help? What about a
Chesterfield footstool
? It's perfect foil for both your chairs and Chesterfield sofa. Always ready for you to pull off your shoes, put your feet up and contemplate your toes. You can enjoy the relaxing feeling as the stresses and strains of the day melt away. Lovely! As you would expect our Chesterfield footstools can be made to match your existing furniture to create a harmonious symphony of burnished leather and glossy wood. Our Chesterfield footstools come in a range of chic styles and shapes some of which include useful storage for all those little knick-knacks that haven't quite found a home. If there is a downside to owning a Chesterfield footstool it'll be the petty squabbles you'll have with the family as to who gets to use it.
Chesterfield Heaven
We hope you'll agree we've got this whole Chesterfield thing covered. Whether it's sofas, wingback chairs or Chesterfield footstools we can help you to enjoy every part of the Chesterfield experience and the unquestionable quality it brings to your home. Of course, like all our furniture, our Chesterfield footstools and wingback chairs are created by time-served craftsmen using the finest of materials and we're confident your Chesterfield suite will bring joy and comfort to your life for many years to come.]]>