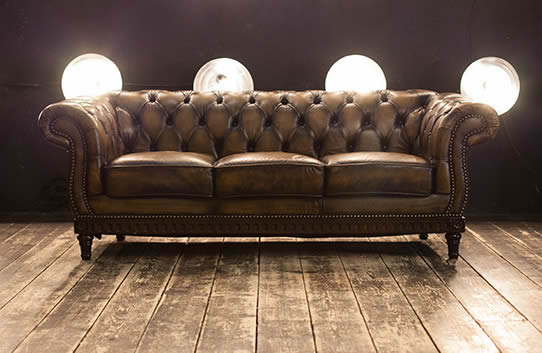 <![CDATA[When you think about it, your sofa is a place where you spend a considerable portion of your life. Add up the time you use your sofa to watch TV, read the paper, eat casual meals and snuggle with your loved ones. Occasionally you'll have a nap, play with the kids, or just sit quietly and enjoy the garden. That's a lot of time. It means your sofa should be seen as a lifelong companion. A loyal friend and the one place you'll head for when you need to relax. Knowing that, it's essential to get an intimate understanding of this ever-present object in your life. So, if you're considering buying a new sofa, especially if it's a magnificent Chesterfield then it's a good idea to know your way around what makes a great Chesterfield sofa. That way you'll be buying a lifelong friend and not a passing acquaintance. Here's what you should look for.
Check The Leather
If you're opting for a leather sofa, then a proper appreciation of this beautiful organic material will be vital. There's a wide array of leather types and styles that you'll encounter as you build your knowledge. All of differing grades and quality. Understanding what quality leather looks, and feels like, is essential. Upholstery leather goes through several processes before it's good enough to use as seating. There's the pigmentation, resurfacing, and blemish correction. However, it's the final result that's most important. Look for phrases like full-grain or aniline as indicators of excellent leather. Often these terms refer to leather that has had the minimum of processing. Indeed, good leather will still show some of the attractive features of the animal hide used to make it. Many consider these small blemishes a real indicator of a superior product and so should you. The simple fact is that good leather costs a little extra. Leather Chesterfield sofas that seem just a little too
cheap are often of lower quality
. While these sofas may look great initially, they'll soon degrade as the leather wears and the seams start to split. Pay a little extra, and you'll
get the leather Chesterfield sofa you deserve
.
Delve Deeper
So now you've got a good idea about the leather it's time to look under a Chesterfield sofa's leathery skin. You see, without solid underpinnings, a sofa is just a squidgy leather bag. To be a comfortable, reliable piece of furniture a Chesterfield sofa has to have a sturdy frame, perfectly tuned springs and foam cushioning in all the right places. Ideally, the frame should be constructed from straight-grained Beech. The joints should have been strengthened using glue and screws for rigidity. The seating support should be a combination of dense elastobelt webbing and serpentine springs firmly fixed to the stiff frame. Over that, different grades of foam should make up the cushions, arms and back. Only when the frame is reliably strong, and the support elements firmly in place should the leather be applied. This process will include installing the trademark, recessed buttons all of which should be attached to the frame. Ensure you check the distinctive round head tacks. Each should have been hand hammered into the frame and be even and attractive. If you notice they're glued on as part of a pre-made strip, it's time to scarper. The acid test is to have a good long sit as you ask the salesman about the sofa's construction. If you start to hear creaks, groans or noises, that's a sign of dodgy quality. More important still, if you don't feel fully supported and comfortable, then it's time to look elsewhere.
Aftersales Support
Always check the guarantees and aftersales care your sofa company is offering. Good companies provide extended warranties and easy to access helplines should problems occur. It's also worth checking online reviews by independent review companies like
Feefo
or Trustpilot. These sites should give a useful idea of both the quality of the product and how well the company deals with their customers. Do your research well, ask lots of probing questions and test the Chesterfield sofa as much as you need to get a sense you're buying the very best you can afford. That way you'll get a Chesterfield sofa that'll you'll be able to rely on like a trusted friend who's always there when you need them.
Proudly Made In Britain
At the
Chesterfield Sofa Company
, we set only the highest standards for our British made Chesterfield sofas. Our highly trained craftsmen know how to make the very best furniture money can buy, and we welcome your questions and enquiries. When you are looking to buy your new Chesterfield sofa get in touch on
0800 035 9889
. Our team will ensure you get a leather Chesterfield you'll soon be proud to think of as a loyal, supportive friend.]]>
---