<![CDATA[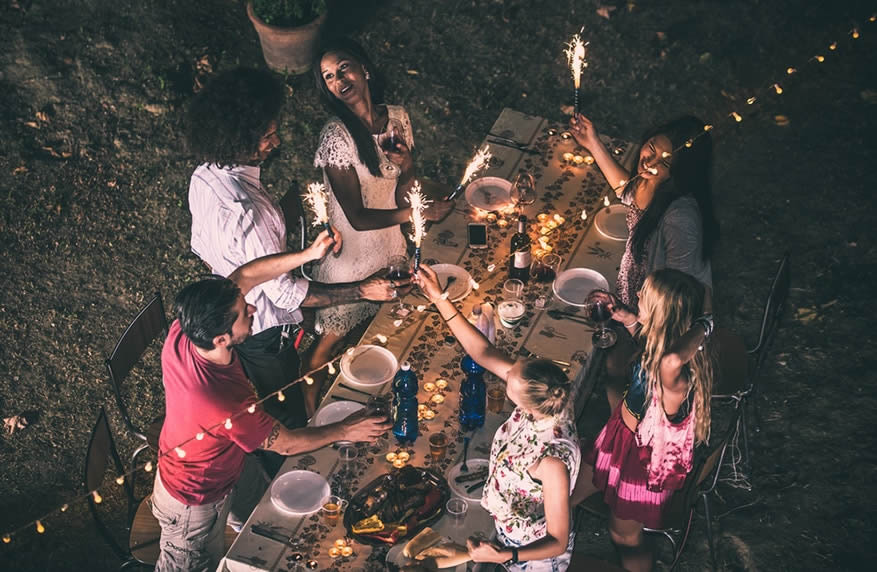 It's summer, hooray! Yes, we know, there are some days when you look at the rain and wonder if there's such a thing as a classic British summer. But look on the bright side. With longer nights, higher temperatures and, dare we say, some sunshine the allure of outdoor living beckons. So it's time to get your act together. Now's the time to leave the comfort of your living room. Heave yourself from the Chesterfield and create a perfect outdoor room.
An Outdoor Room?
You might pick up your Chesterfield, dump it in the garden and feel satisfied you're now outdoor living. That might suit some, but the true definition of an outdoor room is a bit more subtle than that. Generally, an outdoor room is one that lets you enjoy the lovely summery light. It helps you move seamlessly from the indoors to the outside world. Done well it'll allow you to enjoy the outdoors with all the comfort of being indoors. It can be as simple as a spacious patio area accessed through large patio or bi-fold doors. If you add some shelter like a lean-to, sailcloth or a retractable canopy, that's a simple outdoor room. This will be very usable on all but the most disappointing of summer days. If you have a bigger budget, go for a glass-based structure like a conservatory or orangery. These will make excellent outdoor living rooms that you can use all the year round.
Outdoor Seating…
To maximise your outdoor living experience choosing the right furniture is important. Obviously, we believe the
classic chesterfield
is truly versatile. However, you may want to choose something more organic for your outdoor room. Depending on your format, your outdoor suite may need to be resilient to the elements. Wood, rattan and plastic are great options. Choose furniture with removable cushions made from an easy to clean material. Get this right and you'll have the perfect combination of comfort and practicality. There are many styles of outdoor furnishings available so you'll soon find one that suits you.
Outdoor Luxuries…
Because you are outside it doesn't mean you have to compromise on how you live. Outdoor living can easily provide all the luxuries you need. Ensure you plan in room for table and chairs for al fresco dining. Create a barbecue area to cook delicious meals. If you tend to feel the cold, add some outdoor heating such as a patio heater or chiminea for when it turns a tad chilly. You can have external lighting to enjoy warm nights after the light has faded. Installing a weatherproof socket will allow you to watch TV, listen to music or even work from home.
Bring the inside out
Whatever format you go for, keep it simple and refreshing. Choose light colours in summary pastels or earthy tones. Use simple plain fabrics and pale accessories. Add in some simple plants, terracotta pots, ornamental trellis and perhaps a tinkley wind chime and you're done. Of course, if you cannot do without some Chesterfield excellence in your outdoor room we'll be very happy to help you. Perhaps made in a lovely light fabric. That'll fit right in.
Give us a call
and well sort that for you. Pretty soon you'll be able to crack open an energising bottle of chilled rose and get out there whilst the summer is here!]]>