Some think that plumping for a plain old brown leather sofa is the soft option. A no-drama choice for the decoratively faint-hearted. That is until they start to match up the room colour and accessories. Suddenly all sorts of dilemmas arise. What goes with brown? Is your brown sofa too middle of the road to pair with other stylish furniture? Is it just too staid and boring?
Well don't worry. We are here to help. Indeed, by the end of this article you'll know that a brown leather sofa is in fact one of the most versatile choices you can make. And of course, the epitome of a classic Chesterfield sofa is one made in brown leather. Indeed, you may finish reading this article wondering how you lived with any other colour. Let us move on…
Head for the coast
This combination matches navy and white with a brown leather sofa. Often known as the coastal look, it allows you to add refreshing a seaside vibe to your room. Don't skimp on the nautical patterns they'll look great. With chalky white walls, you can embrace the sea faring theme with baskets, sisal, rope and bleached woods. Get this right and your sofa will look anything but out to sea.
Brown and Gold?
Naturally, other browns will live very happily with your brown leather sofa. This can be soft furnishings, rugs and curtains. But it's the accent colours that add interest. With a lighter brown sofa, adding gold into your scheme can work wonders. Use it sparingly though. Offset against cream walls, gold ornaments, picture frames and furniture inlays will catch the light wonderfully. Add just a pity bit of gold to add genuine class to any feature room.
Grey and Teal
If you want to be bang up to date then grey and teal are super fashionable this year. Grey is an easygoing colour offering a tonal background that doesn't impose. Teal will add zing and will refresh and stimulate in equal measure.
In fact, most blues, particularly darker ones like peacock, will co-exist well with a brown leather sofa. To finish, add eye-catching rugs or accessories in orange, pink or yellow. This will lift the whole scheme into the modern age. Soon your room will enliven and relax you in equal measure
Seventies Chic
This approach will help you to channel the 1970's. If you've gone for a chocolate brown sofa, then orange, brown and white are the colours for you. Use orange in moderation as part of funky 70's pattern on a lampshade or furry throw perhaps. Add in beige on cushions or curtains and source deep brown leather accessories. This look will soon get you rummaging for your platform shoes and loon pants!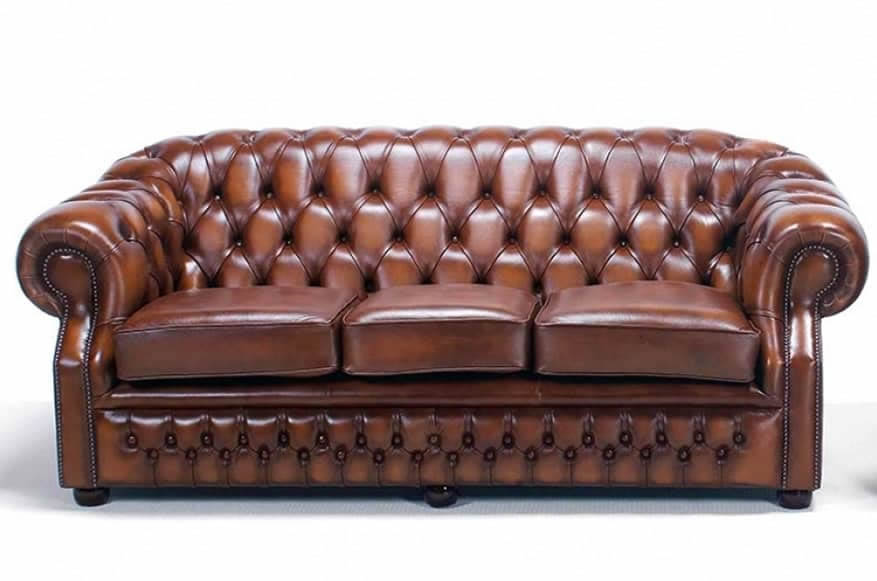 Stay in neutral
Often a brown leather sofa is statement enough. Especially if it is an exquisitely made example like our Windsor Chesterfield. All you need do is choose calming, neutral tones for the rest of the room. Keep things simple. Use watery pastels like light blue, soft coral, millennial pink, a sheer grey or a light brown.
As long as you don't overdo one individual colour, it will look marvelous. Just avoid using the same colours for your accessories as you do for the walls. That might be too middle of the road.
Do try to add in a little drama such as a touch of black on lamp bases or curtain poles. Vary the textures to include linen, wool or even some brushed metal. Design it well, and even this more traditional style room will attract gushing compliments.
Don't be down on brown
You see, even a brown leather sofa can really sing if you know what you're doing. Use some of these ideas and this furniture stalwart will shine just as well as designs that are more exotic.
Of course, we'd be delighted if you chose a brown leather Chesterfield sofa from the Chesterfield Sofa Company. Indeed, read our buyers guide that shows how a genuine Chesterfield from us will last you a lifetime. All you need do then is chose the colours for the rest of your room.
If you need any advice, or have questions, give us a call and we'll be happy to help.