<![CDATA[Few would disagree that a traditional Chesterfield sofa in beautiful burnished leather is a statement piece of home furnishing. It simply has the presence and looks that project quality, discernment and authority. They are also, as you would expect, very comfortable. Nevertheless, for some with more modern preferences, a leather sofa may be a little too 'old school'. Don't worry! You can still have all the luxury of a classic Chesterfield but with a modern, retro twist. That's where a velvet Chesterfield sofa comes into its own. All the style, comfort and tradition of its leather sibling but with a softer, indulgent feel that only velvet can offer. If that appeals, then the Chesterfield Sofa Company has the very thing, it's part of our brilliant fabric sofa range.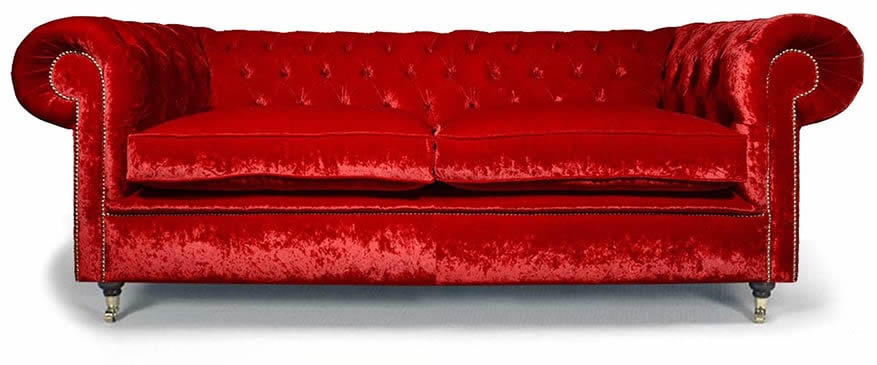 Why should you choose a velvet Chesterfield sofa?
There's just something exquisite about velvet. It has an indefinable air of sophistication. Like the long red dress worn by a wealthy lady on a night out at the opera. Velvet oozes class whether it is part of a sophisticated garment or, as we like it, the sumptuous covering on a Chesterfield sofa. It's just such a beautifully tactile material, lovely to smooth down with your hands and massage with the fingers. It gives you one of those irrational highs like popping bubble wrap as you enjoy and appreciate its unique texture. Moreover, a velvet Chesterfield sofa offers a delightful warmth and a softness you can enjoy no matter what the temperature. Better yet, like a leather Chesterfield, it will catch the light in any number of sublime ways as the differing wefts and wanes of the fabric offer an ever-changing surface upon which the light can play.
What colours do velvet sofas come in?
Most, when they think of velvet, will imagine perhaps two or three colours. The jet-black of a seventies dinner suit, the red chairs in a traditional cinema or the bottle green curtains of an aunt's sitting room. As it's a manmade fabric,
velvet can come in virtually any colour
making it incredibly versatile. This means you can enjoy all the benefits of a velvet Chesterfield sofa no matter what the colour palate of your home. Whether you prefer the muted greens and browns of nature. The traditional blues and greys of a gentleman's suit. Eye-stinging electric blues or neon pinks, we can make velvet sofas to satisfy every taste and styles of living. So you can have a velvet Chesterfield sofa that will enhance the traditional décor of a suburban Victorian villa or add a stylish punch to a high concept apartment and all types of home in between.
The best of both worlds
With our velvet sofas, you can have all the heritage, presence and comfort of the Chesterfield design coupled with the soft versatility and luxury that only velvet can offer. It's a winning combination and one that we know you will simply love.
Call us today
to discuss how we can make your velvet Chesterfield sofa a reality…]]>