<![CDATA[If you're looking to spice up your home and give your living room the X Factor, you don't need to throw lots of money at it. All you need to do is incorporate a special iconic piece of furniture into your room design, and what better focal point could there be than a handmade leather chesterfield sofa? Eames Chairs and Corbusier Chairs may be beautiful and elegant, but you'll need deep pockets to get your hands on one of those. Most of us live in the real world where money is hard-earned and pockets are shallow. View our range of Chesterfield Sofas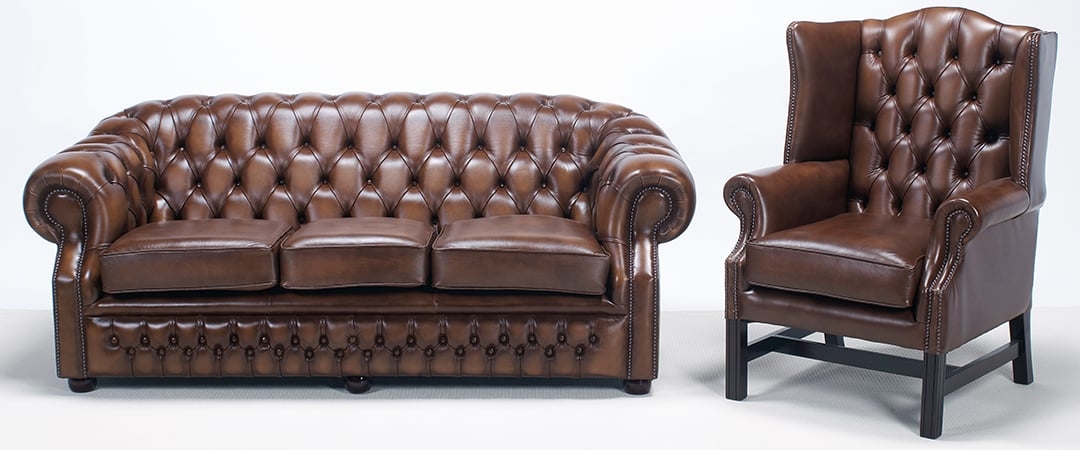 Handmade leather chesterfield sofas: add a touch of class
As far as we're concerned if you're looking for an affordable iconic piece of furniture, then look no further than a handmade leather chesterfield sofa. It's a classic piece with a pedigree few others can match. It might be based on a design that's over 200 years old, but it's just as elegant and sophisticated as it's always been. What's more it's British, and that, as the world knows, is a guaranteed mark of quality and the finest workmanship.
4 reasons why you should buy one of our handmade leather chesterfield sofas
Made in Great Britain
What's so special about that?
Well, when you buy British, you generally know you're buying a quality product that has been made with the greatest care and attention to detail. It's that same sort of commitment to detail and quality that we try to put into every handmade leather chesterfield sofa and chesterfield chair we build here.
Quality
We only use the finest quality materials, like seasoned timbers and full-hide superior leathers, and then team this with traditional, time-served British craftsmanship.
We continue this attention to detail throughout the construction process and even hand-nail every stud to guarantee quality assurance. We care about the quality of the final product we create, because we know that's exactly what our discerning customers demand.
Price
All our handmade leather chesterfield sofa and settees are manufactured to the highest possible standards.
We've set our benchmark to such an incredibly high standard that we doubt any of our regional competitors could match us in terms of quality. Yet in spite of such quality, we're still able to offer our customers the very best competitive prices. How we achieve this is simple. We sell direct to the public, so there are no middle men. We manufacture all our products and sell direct to our customers so you won't be paying out-of-town inflated retail prices: just a competitive price for a quality product.
Service
Our business is based on customer satisfaction, so we are only happy when our customers are happy.
That's why we offer this no-quibbles promise: if there's a problem, we'll deal with it – if there's a fault – though we're pretty sure there won't be – we'll guarantee to fix it. We even extend this guaranteed service to our pricing structure. If you manage to find another handmade leather chesterfield sofa of a comparable quality cheaper, we'll beat that price. We guarantee that.
How can we make such a guarantee?
Well, because we're pretty confident that you won't be able to find one. Call us on 0800 035 9809 or Contact Us for more information.
]]>