<![CDATA[
Alas summer's almost over. The heady, warm days will soon become a distant memory as the nights draw in and the temperatures drop. As the air starts to feel autumnal, and nature's leaves become tinged with brown it's time to say hello to Autumn Winter 2017. Before you get a severe case of the winter blues, we thought we would cheer you up by giving you the hottest interior decor trends you can use in your home now. All to keep you happy and motivated during Autumn Winter 2017.
Velvet
Velvet is back. Resurrected from the cinema seats of old, straight into the interior designs of today. Use it copiously for greatest impact and comfort. Lots of sumptuous velvet on your soft furnishings will help to stave off the winter chills. If you know what we mean by
Hygge
, then velvet will deliver it by the bucket load. Better still,
a chesterfield sofa looks great covered with velvet
. So why not treat yourself this winter!
Colour Blocking
This interior decor idea solves the dilemma of deciding what colour to paint your room. You know, for when you just cannot make a decision. It does this by letting you use many colours, all arranged in contrasting blocks. These will break up walls into lovely technicolour slabs of differing tones. Maybe get some tester pots to see what works. Then go blocking crazy!
Teal
Is teal the new black? Maybe not. Nevertheless, it's certainly the new kid on the block for the Autumn Winter 2017 colour palette. The rich green-blue of teal adds drama and freshness to your room and is surprisingly warm. Accessories in subtle greys or beige will look fabulous against teal. Contrast with white walls and pale wooden furniture and teal will provide you with an enlivening tonic on a frosty morn.
Woven Texture
Woven items are going to be big on the interior decor shopping list in Autumn Winter 2017. Products like chunky knit throws, shapely baskets, rough linen tablecloths or raffia lampshades. Woven items will bring an organic, warm feel to any room. Favour off whites, grey and cream to get the full effect. It's an easy way to add some functional, nature-inspired elements into your home.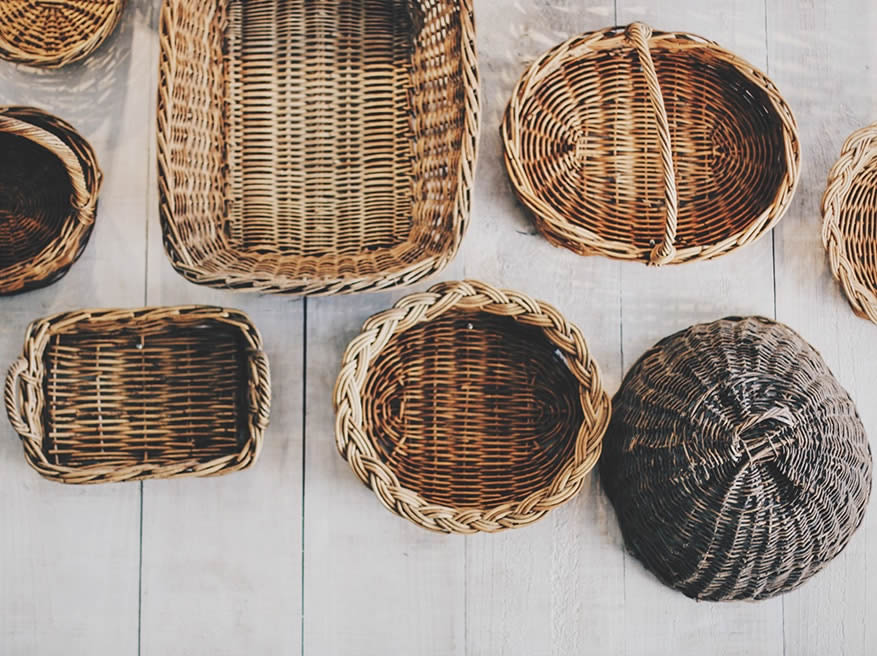 Emerald Green
Fly my pretties fly! Not to the Emerald City in your ruby slippers. No, to get some emerald green for your home. This old school colour's back in fashion. Big time. Use it liberally in your interior design. Go emerald green mad and you'll have a room with more drama than a Shakespeare convention. It'll work especially well in a bedroom or in the kitchen on the cupboard doors. Be bold, and you'll find this heritage colour is a decorative gem.
Monochrome
This interior decor trend is one of the easiest ways to stay in vogue and keep it simple. Contrasting black and white is dramatic and easy to do. Plan carefully to get the balance right. Ensure that you preserve daylight and this classic look will be easy to live with. Accessorise with brass and copper to add warmth and use woven textures to soften. Include some of this year's bold black and white wallpaper designs, and your monochrome room will serve you well for many years.
Geometric Tiles
The classic straight lines of square tiles are taking a back seat with Autumn Winter 2017. Maybe keep them for the bathroom. Instead, complex and decorative geometric tiles are making their mark. And whether you go for simple white or a more colourful arrangement, geometric tiles will provide interest and sophistication. Use them in the kitchen, in inglenooks or in utility rooms to lift these areas to interior décor perfection.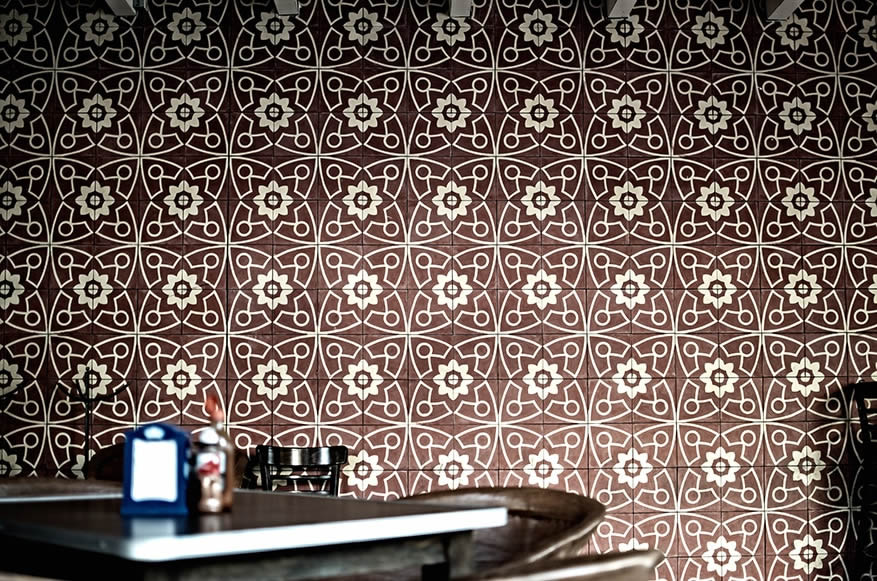 Blousy Wallpaper
If you can say one thing about Autumn Winter 2017 trends is they are certainly audacious. And floral wallpaper is definitely no shrinking violet. This year there is an emphasis on large flower motifs in tones of blush, dove grey, and emerald. The term is blousy! You'll certainly be making a huge interior décor statement if you decide to go blousy. Expect friends and family to say 'wow, gorgeous and that's bold' when they see your new wallpaper. They could equally be talking about you and your excellent taste…
Blush
There's no need to be embarrassed to use pink in your home. Blush, or Millennial Pink as it's known is a modern, vibrant colour. It's for those who want to bring a brighter outlook to their living spaces. Teamed with grey, duck egg blue, or light beige Blush is a winner. Use darker versions of all the complementary colours for your accessories and your room will soon be in the pink!
Brass
Last season copper was the new stainless steel. This winter brass is the decorative metal to choose. As a decorative inlay on furniture, it looks classy. For accessories such as lampshades, picture frames or headboards, brass is perfect. With its faux gold shimmer and tendency to develop a rich patina, brass will complement a traditional themed room. In more modern settings, use sparingly to add drama and an on-trend touch.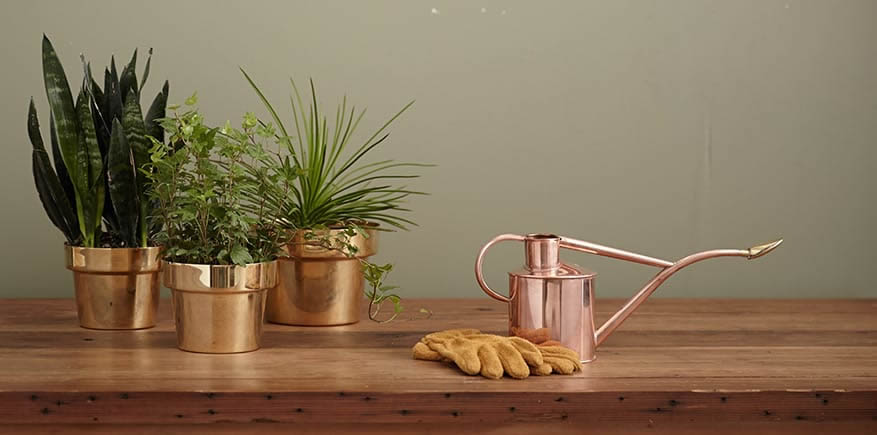 Quilts
Have duvets had their day? That would depend on how cold it gets we suspect. Quilts are a lovely alternative that give a bedroom an old-style look. Available in a huge range of colours and materials, a beautiful quilt can be the anchor around which you design a bedroom scheme. Look out for knitted, natural fabric, silken or candlewick varieties. Once you've settled on one, the rest of your bedroom's look will soon follow.
Faux Finishes
These offer a cost effective way to change the look of a room without emptying the bank account. Faux finishes are easy to create using removable wallpapers or adhesive floor transfers. For DIYers, there's a huge range of specialist paints and stencils you can use to transform just about anything. All it takes is a little creative vision and some hard work. Get cracking and you will renovate even the most boring furniture into something that is bang on trend for Autumn Winter 2017.
Just add a Chesterfield
You'll agree, there's plenty of ideas to keep you busy during the darker months. You might get so engrossed doing up your home it'll be Spring before you know it. Happily, you'll also have spanking new interior décor to enjoy in 2018. Looking at all these interior décor concepts, we're positive that some Chesterfield furniture will complement all of them. Why not give us a call. Tell us the direction you're going décor-wise, and we'll find you a sofa that you can enjoy in Autumn Winter 2017 and for many years after.]]>
---